Hear about us from our wonderful adoptive families!  We love getting updates and pictures of our little ones
update on Truman
Carol,
Winston and Truman travelled with us to St. Louis, Wichita, Denver, Palo Duro Canyon (near Amarillo), Dallas, and Little Rock.
They saw the Arch, AKC Museum of the Dog, Laumeier Sculpture Park, Keeper of the Plains, hiked the canyon in backpacks, heard live music, ate with us at many restaurants, and met our son's 3 dogs in Denver.
Truman barked a bit in hotels when we left the dogs but overall a successful trip.
Keith — Tennessee
Carol,
Hi! It's Sarah   and it's been a long time since I've updated you on our sweet Sonny! He's still our furry little bundle of joy! Everyone loves him in our neighborhood. He's healthy and full of energy and oh so spoiled! He's always smiling! I hope you are doing well.
Warm wishes,
Sarah
REMY / formerly Teddy
Remy (Teddy) is doing great.  He is a lamb.  He loves his new dog family, too.  He follows big Bogart around (loves to play with Bogarts pom pom tail) and loves little Petunia.  My kids adore him. ..
follow up:  Rèmy is so happy, funny, kind, and smart.
He has begun training and the trainer said he is "quite remarkable"
Can you tell we are crazy about this dog?
Best,
Eileen – Missouri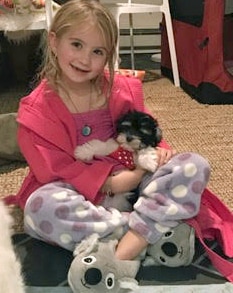 Thank you so much for your email Carol and all of your help in general.  We are totally in love with our new puppy!!  Our daughter renamed him Larry, which may sound odd but is a very special name to her so it fits well.  Although he is even cuter in person as she said, he is even sweeter.  He was fine on the trip and woke up a couple of times but we consoled him back to sleep easily.
I've spoken with the vet already and she is totally on board with that plan for his next shot.  Knowing nothing about it I am really appreciative that you brought it to our attention.  Sean was really relieved and impressed with your attentiveness to the whole situation, especially with such a long drive.  
Amy and Sean  Wilmington, DE
TOOTSIE
I was very interested in the Havanese breed and was lucky enough to find KingsKids Havenese. Carol, the owner, is a jewel. This was also my first time to get a puppy so I was full of questions. Carol is so knowledgeable of the breed and was SO patient with me. I brought home a precious little girl that is such a joy. The entire experience was exceptional. If you're looking for a havenase you can't go wrong with KingsKids Havenese.
Janice,   Birmingham AL
BENJI



Hi Carol,   Just wanted to let you know that Benji is doing great!  Everyone thinks that he is absolutely adorable…
He is a very busy boy and certainly keeps us on our toes.  We had forgotten just how much energy a puppy has.  We have attached a few pictures to show how much he's has grown.  He has the run of the house and is doing pretty well with his house training.  He loves the yard and has a race  track around the pool. We love him very much!  Hope you enjoy the pictures.      Marge & Ray
DESI
Hi Carol,
I can't believe Desi is almost 7months old already!  He weighs a whopping 7 lbs now!  It feels like he's been here forever, he's such a part of our family.  He's hit all the milestones along the way, and a big one was being neutered.  I was going to wait a couple more months but he started some of those boy dog habits that were not so good!  Should I just send you a copy of the receipt that shows the procedure?
I've given your name to several people that have seen him and fallen in love!  Wherever we go he attracts attention and they want to know where he came from.  He's really friendly and loves everyone, plus he's so cute you can't help but be drawn to him.
Hope all is well with you…
Cindy  – Tennessee

UPDATE: Here's my little man!  Looking really handsome!  9 months old
GIGI
Hey Carol,
Hope all is well!
 Here are some pic's of Gigi at 4 months…..
Grandkids love her and call her the best dog ever! They give her a run for the money.
Just wanted to give you an update.
 All the best,
Jewell is now Honey and we are so happy to have her.  She has brought additional happiness to our home and fits right in with friendship toward my husand's "rescue" dog, Rebel.  They play hard and then chill out.  Honey has slept with the three of us every night and snuggles close to my side.  She curls up with Joe while watching TV in the daytime.
Billie and Joe   -Alabama
We wanted to show you how much Sydney has grown and what she has just learned!  My son taught her shake:). We love her so much and cannot get enough snuggles!  I will send a few pictures too.

Phoebe  – Brentwood, TN
SWEET PEA (now Daisy)
Hi Carol,
How are you? I wanted to send you some new pictures of our beautiful puppy, Cadbury. She is the best decision I've made so far, I am so happy with her. She is so playful, friendly, and affectionate. She gets so much attention everywhere we go and she loves it! The last few months have been lots of work but I have been so rewarding. I couldn't be happier. I hope you're doing well!
Take care,
Renu – New York

SWEET PEA (now Daisy)
Hi Carol,
How are you? I wanted to give you an update on Sassy, who we renamed her Cadbury. 🙂 She's doing great, learning so much so fast! I'm impressed at how well she picks things up. I'm so lucky to have her as part of my family and have you to thank for raising her so well. She's doing very well going potty outside. Last night was the first time she slept the whole night through. She also has great behavior indoors, not biting or chewing on things. We had her vet appointment on Monday which went well, no problems. We have another appointment in a few weeks for other shots. The weather is finally getting better in Albany so we go on plenty of walks and have lots of playtime. She gets so much attention everywhere she goes! We are struggling with separation anxiety when we are at work, but that too has improved over the last week. Here are some pictures from our morning and noon walks yesterday.
Thank you again for this most precious gift. I absolutely adore her!!
Renu – New York
Cruzer/ Prince 
Cruzer is doing great! He's so sweet with our girls and has bonded so well with everyone.. Thank you for placing him in our home. He's already brought so much love and happiness to our family. He's doing very well with his manners. He finally went down our 2 steps at our backdoor yesterday. We had a huge celebration for that! He's already sitting, laying, and heeling on command. Such a super smart puppy! I'm going to start him in puppy class at the end of August with my sister and then obedience. He's the fasted dog I've ever seen.
Jennifer D.   West Virginia
Callie
We are so happy with Callie!  She is a real joy.
She is certainly keeping us busy.  I have attached a picture of her I took a couple of weeks ago.  She is such a beauty.  When I walk her in the neighborhood, everyone wants to meet her and most say that she is so cute she looks like a stuffed toy dog.
I want to wish you and your family a very Merry Christmas!
Best regards,
Pam     , NC
UPDATE:  7/2015
As Callie is approaching the one year mark on July 30th, I thought I would send you a couple of photos and give you an update.
She is such a good puppy and we love her more than anything!  She is now house trained and has passed her AKC Canine Good Citizen test.  We are in the advanced class at puppy school and she has matured so much since we started taking classes.  In addition to obedience training, she has learned to "say hi" by waving her paw and she will "dance" by standing on her hind legs and turning around for a good treat.
Her silky puppy coat has been replaced by a beautiful thick coat of fur and she is just gorgeous!  She loves to get her teeth brushed every night before bed and goes right into her crate before lights out.
I can't thank you enough for the wonderful job you do of breeding such precious companions.  She is everything we wanted and much more – a real champion!
Best regards,
Pam
Manny
Manny is weighing nine pounds these days!  He is a sweet little guy.  He keeps me hopping and has helped me loose some weight chasing after him which is great! His chocolate color is beautiful!  It is a very deep brown.   Steven and I are crazy about him and the grandchildren now call our home "Manny's House"!
Thanks for everything,  Donna-  Huntsville, Alabama
CLOVER
"She is so wonderful and such a fun and loving dog.  She loves puppy playtime….thanks for such a blessing in our lives….I see you are having more puppies….we just love ours.  Every night before her dinner, we give thanks to God for Clover…thank you Carol.
Have a blessed week,
Jolene  –Harrisburg, Pensylvania
Fisher
We got Fisher when he was 12 weeks old from Carol.   He is the absolute love of our lives. He potty trained so nicely, so very smart
He is so healthy and full of energy, but when we hold him, he melts right into our arms. We don't remember life without him. He loves our grand babies, he loves dogs, cats and people. Such a joy.
Carol gave him an excellent start, I tell everyone where we got him. He loves his bath, loves to swim– I could go on and on. The best dog we have ever had. Everyone stops on the street and greets him,they can't get over how beautiful he is.
Lori   T.   Hendersonville, NC
*Blessed*
MARCO update
Carol,  Hello from Kentucky! Just wanted to say hello to Marco's first family and let you know how he is doing. We are always online looking at your new babies and they are just beautiful as always! You have the most wonderful Havanese babies! They are just out of this world beautiful with their markings and their beautiful faces.  Marco turned 3 years old on January 18th 2014 and he is everything you said he would be. He is in excellent health, weighs 12.5 pounds of solid muscle, and has a regular Vet that he sees for his checkups and shots.
Also he is groomed at this Vet too which is a plus.  He is so smart and we realize it is because of his excellent breeding.  We are amazed at him every day!  He may have to have a brother or sister in the future and if so we will come to you! He likes to be the "only one" at this time lol…… I have included some updated pictures and I hope you enjoy! Hope all is well and again thank you from the bottom of our hearts!
Jamie,Vanessa, and Marco
Pepe
Hi Carol, I thought I would send you a new pic of our handsome boy Pepe (Oliver) now that he is 1 year old.  He continues to draw adoring fans and he loves the attention he gets. He is still very much a puppy and loves to play ball and whatever games he makes up.  Our cat doesn't always get what he wants to do but they generally get along well, even sleeping  together. He just seems to get better and better!  His biggest issue is paper.  Any paper that finds its way near him is instantly converted into confetti! :0
I hope all is well with you and your family,
Earl & Cheryl  Lima, OH   3/14
=
Buddy / Duke
Hi Carol, It has been a very exciting holiday in the P.  household, please except my apology for taking so long to express our appreciation for all you have done. Duke, that is the name that my husband wanted to give Buddy, from the moment he held him and love has been growing ever since. He is enjoying his new home and becoming a excellent beach runner. I am sending pictures to see how he as grown. Thank you and we will keep in touch, Happy and Healthy New Year to you and you family Dolly P.  Palm Coast
Florida   1/2014
Peyton
Hope all is well with you!
We are so enjoying our little Peyton.  He is the joy of our lives!  
 Thanks,  
Joanie    Straw Plains, TN
Dreamer and Joe Friday
Hope this finds you well.  We are most excellent.  Dreamer and Joe Friday are now at a weight of 6.3 and 6.6 respectively.  They are the LOVE of our busy days!  We are training them to come, sit and stay.  They ring the cow bell when they need out.  They really enjoy their crate time also.  Finally sleeping all night! Yeah!!!!!!!!!!  Accidents have been minimal…….the rain and snowy weather really throws them off!  I just reinforce the potty pad usage.  OMG, they love the vitamins.  They will dance for them!!!!! … They both love a good lap cuddle and body massage….they become as limp as a wet dishrag.  We are so pleased with them and love them so much.  They are a joy to watch them play together….running games are their favorite.  The leash has not been a problem..they stand very still and wait for you to get it on them.  They are not crazy about wearing their sweaters though.  We had to get a size larger sleeping pen for them……they cuddle together and snooze away!
   Have your new babies been born yet?  I know you will be so busy again.  Once again, Thank you so much for raising such special little animals!
                        Many Blessings, Brenda   I will send you a pic of them
Lola
Good morning Carol. Lola just turned 8 months and she is the sweetest most precious girl. She is loving, smart, and beautiful. In fact she is the hit of the neighborhood. Many of the children come to see her and play with her. We could not be happier… Blessings, Gary  Virginia Beach  11/13
Annie is thriving and loving our family.  She is very healthy and quite athletic.  
She has a particular passion for running with me morning and evening.  Her jumping skill is quite impressive as well.
We all have bonded with her and she has finished an obedience course with a trainer.    She is very happy and content.  We are delighted to have her in our family.  She has been a very
good fit.
Best wishes,
Jim  K.  Ashland, KY   12/13  
Maddi / Lucy
Carol,
We want to thank you for our amazing Havanese puppy, Lucy (Maddi). She is a delight, loves everyone she meets, and learns very quickly. She was potty trained in just a few days and has had no accidents. She was a star at our Puppy Manners and Puppy Play classes, learning to sit, down, and stay.
We walk with Lucy for 30 minutes on the side of Radnor Lake where she meets many people and dogs. She is always hopeful they will stop and greet her and always assumes they will be friendly. She now knows our route and hurries along to reach the benches overlooking the lake where she surveys the lake and the path for animals or people. She especially likes it when I run with her and she is always the fastest runner.
Mary Lou
UPDATE: 9/13   We are still absolutely delighted with her. She is so quick to pick up on our daily activities and position herself in her rightful spot, right in the center, so she can be a part of everything. She brings joy to our lives every day.
Best wishes to you and your sons,
Mary Lou  Nashville, TN
LOLA
Good morning Carol. We took Lola to the vet on Wed and she received her booster shots and check up.  We signed her up for the yearly program which also includes spaying. Sunday she goes in for grooming. She is a bundle of joy and already fetches toys. We thank you again.
Blessings, Gary  (may 2013)

UPDATE:  Nov 2013  Good morning Carol. Lola just turned 8 months and she is the sweetest most precious girl. She is loving, smart, and beautiful. In fact she is the hit of the neighborhood. Many of the children come to see her and play with her. We could not be happier.   Gary
Roo
Bootsie
Hi Carol  – Here is a video of Roo.  He is just adorable – and we think a good luck charm for the family. Both Gunjan and I got jobs we were waiting for since he came – and we will be moving to Connecticut with him in August. He is high spirited, and has become very attached to all of us. Also, we think he is almost house-trained, he does have infrequent accidents inside. Neil just adores him. Thanks for recommending him for our family – he is   Great!
Ruchin, Gunjan and Neil
UPDATE 12/13    Carol – merry Christmas to you and Joseph as well ! Roo got a new squeaky toy for Christmas. I can't even begin to describe how much happiness Roo has brought to our family. He absolutely thinks he is one of us!
Hi Carol,   From HEAVEN ON EARTH!  We are IN LOVE!  She is the BEST little girl!  The perfect blend of p layfulness and cuddliness!  She has not cried at all. Slept 8 hours  every night!  We cannot thank you enough for our precious baby girl.  She is an absolute joy!!  
The Baileys
UPDATE:  9/13  Hello Carol. Today our little Bootsie is 6 months old.  We are just amazed by this little pup. She is such a  wonderful dog- a precious little personality- so easy to take anywhere- loves everyone- so smart- so eager to please.  We cannot say enough about her!   And it is not just us- her proud parents- talking.  Everyone falls in love with her. She is an absolute joy!  Thank you thank you thank you for our baby girl!   She is better than we could have ever imagined.  Jane and Clyde  Raleigh NC
 Herbie
We took Herbie to the Vet Monday and received this test results on Tuesday.  No surprises, he is perfectly healthy.  I am amazed at what a good puppy he is.  No crying during the night and only a few accidents in the house.  Things could not be going any better.
 Thanks for getting him off to such a good start!
 The Randalls
UPDATE  12/13 
Hi Carol,  Herbie is the best little dog a family could ever hope to have.  We love him very much.  Everywhere we go, people talk about how cute he is.  He is in training classes now and doing very well…  He enjoyed Halloween, he liked his costume so much he did not want it taken off.
Rosie
Rosie is not just about 13 weeks old and we have nothing but wonderful things to report.
She has slept in her crate everynight, all night.  She house trained by ringing the bell after a week and a half.  She is responding to several commands and is just so so so sweet.  She starts her puppy training class next week.  I know she will graduate with flying colors.
All in all, Rosie has been nothing but a blessing and a perfect addition to our family.  Thank you Carol for the wonderful foundation you give your puppies.  It shows in our little Rosie and we couldn't be happier.
Blessings
Alba                    (from Lilly's litter)
Pepe
Just a quick note to let you know that Oliver has settled in nicely…. We call him Pepe and he responds to it already. His appetite is voracious, he is sleeping well in a crate by our bed, he runs EVERYWHERE, and has made some sort of peace with his new sister, Clairie. He is a puzzle to the cat who just backs away from him. She is declawed in the front but has never offered to swat at him.
He saw our vet yesterday & we will send that documentation to you tomorrow.  Dr. Ferguson says he' s perfect!
Our granddaughters are in love with him. 
Will send more info & pics later.
We are very happy with Pepe!
UPDATE:  Housebreaking is going so well that the day was nearly over today when Earl realized that we had not cleaned up after him even once today!  And if my memory serves me right, the last couple of times I did clean up after him, it was our fault for not responding quickly enough when he woke up from a nap.
One tool we have for training is little cow bells that are hung by the back door.  We started holding his paw and making the bells ring as we took him outside, using the words "Potty outside!"  By the second day he was ringing the bells on his own!  At first there were a few episodes where he rung the bells and just wanted to go outside and play, or just wanted to play with the bells, but that seems to have worn off now.  And, by the way, your assessment of his energy was so right!  He
loves to run

!
I don't think I told you but we have not lost a minute of sleep since he came here!  We were prepared for some whining and crying, But that never happened.  I think it helps that we have his crate in our room.  It was by the bed at first, but now we have moved it across the room (so I don't stumble over it) and he sleeps just fine there.
We are so glad that Earl found your web page.  We couldn't be happier with the newest member of our family!
Sincerely,
Cheryl and Earl
Annie
Just wanted to send you an update. Annie, or Annabel, is growing, thriving and delighting my family.  My husband, my 17 year old son and my 13 year old son have been smitten with her since Emily and I brought her home!  When Emily went back to college she was so very sad to say good bye to Annabel.  I was so sad that she had a harder time saying good bye to Annabel then she did to me!  Oh, my! She is so loved and so loving!
Thank you for giving her such a great start!  We will love her well!
Fondly,    Kristin
Cody
Dear Carol,
We are so enjoying our new puppy, Cody!  We are all in love with him!  He is so adorable and has such a sweet disposition.  He is very playful, but still loves to snuggle up too.  He is doing great with his training and has been sleeping all night in his crate beside my bed since day one.  He took his first trip to the
groomer today for a bath and little trim around his eyes and the groomer said he was not at all afraid and seemed to enjoyed his bath.  They even made him their Facebook picture of the day because he is so precious!
He is still a little guy, weighing in at 3.5 pounds today at the vet.  What he lacks in size, he makes up for in personality! I will send more pictures as he grows so you can see how his markings and coloring changes.  His red and gold coloring is beautiful!!
Thank you again for being so easy to work with. I will most definitely send all of Cody's admirers your way when they are looking for a healthy happy Havanese of their own!
Best wishes!
Denise Ingram
UPDATE:   Cody was a hit at the 14 year old birthday party! His feet didn't touch the floor all night. He was the little prince:)
Bella
 Dec, 2012




Hi Carol, just wanted you to know how much we love our baby Shay. 




She is the sweetest little pup you can imagine. She weighs 7 pounds now, 




and is already housebroken. She sleeps right next to my face, and wakes 




us up in the morning with a face full of kisses. She has helped mend our 




broken hearts from the loss of Bella. Thank you so much for sending her to us. 

 

    Xox Cynthia
Molly

I thought you might enjoy these pictures. We are almost poddy trained. We have taught her to ring jingle bells on the door when she has to go out. Molly is very smart. We have finished shots. We are enjoying her.
Tim and Donna 




posted Aug 31, 2011 12:07 PM
"Sitting Pretty":    Here are a few recent photos of Lorenzo.  Isn't he adorable?  
Lorenzo is a great little companion and a special part of our family.  I recently married and moved and was so pleased with the way Lorenzo adapted to the changes.  He has a wonderfully playful personality and provides lots of entertainment for us.  He recently had his wellness checkup and his Vet was very pleased with how healthy he is.  Lorenzo is a sweet loving boy and he is so loved! (and, just a little spoiled).   I would also like to thank you for the way you respond so quickly whenever I have had questions.  You are appreciated!
HEY THERE,
Carol we just wanted to let you know that Cooper is doing super. He had a big day today! He got to meet his new Vet. everything went great.  He got a little trim at the groomers. He looks marvelous. He is really adjusting well. I have been on vacation so has been my little shadow. He is doing great. I will send you some pictures soon.
Jill
Yahtzee
posted Aug 27, 2011 2:13 PM 
  We named him Yahtzee (our favorite family game).  He's black & white like dice, and a "yahtzee" is like hitting the jackpot!  He's doing great!  He sleeps at the foot of our daughter's bed , and is able to make it through the night without any accidents.  He has a great appetite and has been enjoying afternoon playdates with the other neighborhood puppies
Juliette –  Knoxville
Banjo went home in an airplane!  Jen's Father flies and they came and picked him up in a private plane,  how cool!
Carol, I just want to say thank you so so so much for this wonderful little puppy. He is adjusting so well and has such the personality and i know that is because of the wonderful start you gave him. He is so far ahead in his potty training and I am just so thankful for the amazing training and start that you gave him. I really can't thank you enough.
Hope you and your family are doing well. We took some recent photos of Lulu (formerly Noel) and thought you might want to take a look and see how much she's grown. She's just shy of 10 months now and has been an absolute joy to Tim and I.  She's such a sweet puppy and so smart! Her cream patch on her eye has faded but she still has cream ears and a spot on her back which you can't really see in the photos.
Max is great.  He has joined our lives and made us very happy.   Max is changing rapidly.  Everything is great.  He sleeps soundly through the night with us in our bed.  He is being crate trained with the help of Jo who comes in 2 times a day in addition to our coming home at lunch to let him out.  He is training on a leash, doing fabulous, walks around the neighborhood, greets children, bikes, other pets, and does very well.  He goes out a lot and visits pet stores, everyone.  I hand him to everyone and he kisses them.  We take him everywhere.
Max seems to love his new home.  He can sit, "down", please (his dog sitter tells me that makes him bark", he can "get" a toy and "brings" it back, "drops" toys on command and is working on "come".   He is not afraid of hail, thunder, rain or lightening.
He rides in the car, goes to the bank, dry cleaners, etc. and meets everyone with kisses.  He loves his sisters, two cats, who tolerate him well and also sleep in the bed.  Did I mention, he sleeps with us at night and is so good.  I spend more than I earn on the pet sitter, Jo, who works with him and loves him too.  We are so happy with Max and I thought you would want to know.    Andy and  Dona
"I just wanted you to know that Izzy is doing great with us!  She has adapted extremely well and fits right into the family!  We are enjoying her soooo much and she is such a cutie!   We love her little personality and we can tell she is growing. "
Lori H.  Tennessee
Carol,  Just wanted to let you know that Sugar is doing great.  She is getting properly spoiled rotten.  I'll send pics soon.  Thanks,  Tammy
Bella is doing great!  She loves to be outside with us and we have plenty of yard for her to explore!  We keep her hair short as you can see and she is so soft!  The kids are always saying that we have the best dog ever.  
We recently had her boarded for vacation and the owner's 8 year old daughter fell in love with her and said that if we ever couldn't take care of her that she wanted Bella.  They ended up getting a Havanese rescue because of Bella.  Made me feel so good that she is loved everywhere she goes.  Thank you Carol!  We wanted to see if Mr. Jingles, Bella's brother, was adopted?  The kids still wish we had taken him home too! 
I  just wanted to let you know that Stryker is settling in well. He follows me everywhere I go. Jeepers and him are getting along better than I could of expected. I took Stryker to the vet this afternoon and he had his shots, got his micro-chip and was examined. The vet declared him a wonderful  healthy puppy.Diane,  Oak Ridge, Tn