We have Havanese puppies for sale!  Havanese are the best family dogs.  They are small hypoallergenic dogs and they are non shedding dogs that are easy to train and their eager to please, happy personality will add joy to your home.We have AKC Havanese for sale and chocolate Havanese for sale as well.
Welcome

to KingsKids Havanese where we grow adorable, intelligent, healthy Champion sired Havanese puppies for loving homes. Parents are Top quality and Health tested for your peace of mind. DON'T Settle for Anything Less than a KingsKids Havanese puppy!
All our puppies have gone home for Christmas! We have puppies coming in February that can go home in April. If we can help you find your beautiful Havanese puppy,
Please fill out our Puppy Questionnaire
Sophie Adopted
My name is Sophie. I am supremely confident in her ability to make everyone love me. $2500.00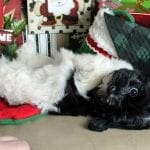 UPDATE: (3 days after going home) Merry Christmas to you! Sophie is already going to the door and letting us know she has to go outside to do her business. She is a wonderful little girl and is much loved. I have never had such an intelligent puppy. I still can't believe that she has not cried at night one time. She had a vet appointment last week and is going tomorrow for a immunization shot. Thank you! Richard in Lenoir City
Misty Adopted

My name is Misty and I have a perfect Havanese personality. $2600
update: We are almost home and Lizzie (misty) has handled the trip well. She did pretty good on her new leash and pottied when we stopped. Thank you for giving her so much love and care ntil you allowed us to bring her into our hearts. Merry Christmas and enjoy that vacation!
Sherrie in Georgia
Milo Adopted
My name is Milo and mommy says I'm a very sweet boy. . $2400
UPDATE from Milo..Now Wilson:
Hi Carol, Wilson is doing very well. He's adapted quickly to our home and family-gives plenty of love and attention to us all.
All the rain we've had since he came home has hampered our house breaking efforts a little, but he's making progress. He is super sweet and has learned some basic commands.
Hope you had a Merry Christmas and your 2019 is off to a great start. Thanks for letting us continue to tap into your knowledge!
Beth in Alabama
Louie Adopted

Louie is a tiny little guy. He looks like his grandpa "Pan". Beautiful black and tan markings are just perfect. He has two back white tips on his feet. He is quiet and sweet and will be small, 8 to 10 lbs. Black and tan often turns closer to white on the tan parts. See a picture of his grandpa "Wee Pantaloons – Pan" as an adult. His color is black and tan. $2600
UPDATE:
Hi Carol,
We are enjoying Louie soo much. I must tell you the xs harness we got for him is still too big. He was a whopping 2.2 lbs on the 24th of Dec. I do try to overlap it the best I can but he can manage to escape it. One night after toileting I was picking it up and I thought he was right there with me only to turn around and find him at the back door ready to go in. Next morning he had again got out and this time he was carrying his harness to the back door.
He is such a pleasure. I'm so glad I did my research and found you dear Carol, you are absolutely a cut above the rest.
Thanks for all you do to breed wonderful Havanese puppies.
Always,
Margo and Ray
HOLD PEPPER – Girl



Pepper is a easy going girl. She will be bigger, probably 12 or 13lbs. Her color is turning more silver but with tan points. She is quite beautiful. $2550


UPDATE: She's doing great!!! Had another bath today bc of all the rain here. She's going potty outside so good. Even bms. So proud of her. She loves her crate and even chooses to rest in it or her cozy bed. She loves playing fetch and seems to already know her name. She's sleeping through the night in her crate without crying. Right now she's resting on me while we're watching football.
Brandy and family, Franklin,, TN
EMMA – HOLD
Emma is a sweet easy going girl. She is a silver Sable and will look a lot like our adult Mandy (Our Dogs page) only darker along the back. Her face will also be darker. She has a mild personality. Not hyper and loves affection. I expect her to be around 10 to 11 lbs. What a total babe! $2600

HOW are KingsKids Havanese puppies different
from others? How are they raised?
I am a perfectionist by nature and determined to do the very best by our dogs and puppies. Remember that how the puppy is raised the first few weeks before you get them is the largest impact on their nature, development, social skills and ease of training once you get them home. This article includes highlights of the full one you can read on the FAQ page.
*At KingsKids Havanese I'm present at every birth and help deliver all puppies, holding them and rubbing them down immediately. They are birthed in my front room and I sleep next to them for several days caring for both Mom and babies.
* The pups are held from the second day on and we touch, caress, breathe on them and let them feel our heartbeat. We also rock them slightly to get them used to motion and avoid car sickness later. Very rarely will we have a puppy that gets sick in the car.
* We do Neurological Stimulation with the puppies from days 3 to 18. These brain exercises are used by top trainers of service dogs, therapy dogs and Seeing Eye Dogs. The process enhances the natural temperament and character of the breed and also helps them adjust to new situations quickly and without stress. We have noticed a huge difference in the litters since we started doing this. They were already great because of the wonderful Havanese nature, but now they begin socializing earlier, they catch on to potty instructions faster and handle new situations better. They also train easier, travel better and we hardly ever see one that gets car sick anymore. If you choose to use your puppy as a therapy/service dog, they have the groundwork and can easily advance through the required training classes.

* At KingsKids we feed the best possible natural raw diet. Its become so easy now with well balanced prepared raw diets frozen in patties. There is no longer any reason not to feed raw. It is easier to digest, reduces stress on organs as your puppy grows, keeps their teeth healthy and if you continue with the raw diet , studies show you can add as much as 5 years to your puppy's lifespan!!

* The pups are well socialized from birth. They are in the front room with their Mom for the first 3 weeks. When they are up and walking well, they get moved into the kitchen into a playpen until 6 weeks then they move into the den to a bigger playpen with added loose time in the kitchen. We play with them daily and they are around all the household activity. This means they hear the dishwasher, dishes dropping, sweeping, moping, TV sounds, etc. Unlike our puppies, a pup raised in a kennel has never heard all these things and can often be very fearful when thrown in a normal household environent.
* Wonderful personalities are also considered for breeding at KingsKids Havanese. Our dogs are sweet, friendly, well adjusted adults and that pass on these traits to their puppies. They love people and run to greet anyone that comes to our door with great delight!
* Rest assured that you are getting a Great Quality Havanese puppy when you find your new pup from KingsKids Havanese.
Adopted Puppies
Peyton has found his forever home.. his new mom writes…
"We adopted Peyton last Tuesday and can't believe what a wonderful dog he is. We have another Havanese from another breeder. He is 22 months old and a great little guy. But he was hard to house train. Peyton has had one accident since he's been here and that was my fault. He is pee pad trained but would rather go outside already. He's 14 weeks and comes whenever I call him. Carol certainly raises great little puppies. He is well socialized, friendly, funny and smart. Not even afraid of the vacuum. He had become a forever addition to our family and the two dogs are having a blast. I would definitely recommend one of Carol's puppies to anyone looking for a Havanese." Renee in Knoxville. see the testimonial on our facebook page
TEDDY and Lincoln
are home with Bruce & Nancy

They get to stay together and are so happy with their new mom and dad.
MADDIE – is home with Nicole
Maddie is like Josie but a little bigger. Sweetie with beautiful irish pied markings and all that nice white on the face and those eyebrows… oh my! $2500
MAGGIE – is home with Brian
Maggie is a beautiful chocolate girl with beautiful eyes that look to stay with a hint of green $2700.
CHEWY came to visit the other day with his family when they picked up his little half brother Baloo. What a sweet reunion! He looks great and he got to visit with his Mom Pebbles too!
Carol:
Rèmy is almost one! He is such a treasure. We love him to pieces! Thank you for such an amazing dog.
Best,
Eileen and Rèmy
Recent email from one of our babies now 5 years old.
Carol,
Hi! It's Sarah and it's been a long time since I've updated you on our sweet Sonny! He's still our furry little bundle of joy! Everyone loves him in our neighborhood. He's healthy and full of energy and oh so spoiled! He's always smiling! I hope you are doing well.
Warm wishes,
Sarah
One year ago today you placed this little angel into my arms. I can't begin to imagine my life now without Truffles. She has filled my home with so much love and laughter. Some say, she is a bit spoiled. I say, she deserves to be…she mended a crack in my broken heart.
Love you forever Truffie!
Thank you Carol for the care and readiness you give to each of your puppies before sending them to their forever homes.
God bless, Jen
Carol,
Winston

has brought me more joy than I can express. I believe his ears will keep some black, but the rest is sort of a caramel color and snow white. He's beautiful and sweet as can be. My husband loves the way his eyes pop out with this short cut. And some leave-in conditioner makes his hair curl which is more obvious in the second picture. Beccie
REMY / formerly Teddy
Remy (Teddy) is doing great. He is a lamb. He loves his new dog family, too. He follows big Bogart around (loves to play with Bogarts pom pom tail) and loves little Petunia. My kids adore him. ..
follow up: Rèmy is so happy, funny, kind, and smart.
He has begun training and the trainer said he is "quite remarkable"
Can you tell we are crazy about this dog?
Best, Eileen Missouri

Scarlett went home in June Mommy Cathy writes:
" Oh, we adore this puppy! She is so content in her crate (crate training) even though we are in the next room going back and forth. no whining at all considering she's never been alone. God truly gave me a gift in her… thank you for All you do in raising these puppies!
(this is the puppy I posted the video on my facebook page. She is so small, she ran right thru the gates they had all set up for her in the house!! She's so funny. https://www.facebook.com/carol.king.9803/videos/1584520948238491/
Scarlett got a haircut! Now 4 months old.
PENNY at home with her new family who writes:

Penny/Lola is doing really well – sleeping through then night, pottying on the papers, etc. She's a love.
I just wanted to let you know that we saw the vet yesterday, per your contract, and they confirmed what I already knew, which was that Penny (Lola) is in great health!
DOLLY is with her new mommy now who writes:

Hi Carol
Dolly (Dolce) is so sweet. She and Mocha ( my 9 year old Havanese) are being very respectful of each other.
We love her so much! Her temperament is so gentle!
Thanks again.
Peg
Presley is in his new home:



Dear Carol,
Presley had a good well-check examination yesterday by Dr. Bondurant at Critter Clinic in Gallatin, TN. Doctor said he has a strong heart! ….
Thank you again for breeding such a wonderful puppy and companion for me. I truly think he is perfect! Besides being adorable, he is fun, loving, quiet and sleeping through the night in his crate in my bedroom. He already "comes" when called and "stays" for a short time when instructed. We're working on "potty outside" using dog bells, and I feel he's starting to understand.
I am so happy! Janan (6/24/17)
Gracie is with her new parents Carol and Larry
Note from Carol 6/17 about Gracie "Shes a little ray of Sunshine. My blood pressure is already lower than it has been in years! Love at first sight!
Carol and Larry

TEDDY is happy with his new mommy Eileen
Dear Carol:
Remy (Teddy) is doing great. He is a lamb. He loves his new dog family, too. He follows big Bogart around (loves to play with Bogarts pom pom tail) and loves little Petunia. My kids adore him.
He is doing really well with potty training. Kid's dad examined him and he looked great. We did break up the vaccinations and he did fine with them. No problems to report.
Eileen



Noel

is amazing, i love that little stinker. She had a good check up,
they thought she was too little for rabies as well they gave her boosters but waiting till Feb 28 th. She is such a smart little cookie. First day i taught her to sit and shake hands. Now she's will sit and wait. She's so precious, i love her such an awesome personality.
Hi Carol,
I got Joey from you 2 1/2 years ago. He has absolutely changed my life! I can't imagine a better companion… We are looking forward to warm weather so we can get back on the paddle board. I thought you might like a recent picture.
Vicky

Hi Carol!
Izzy

is doing great!!!! I had honestly dreaded the puppy stage when we initially got her, but whatever you do – keep doing it!! Omg! She was/is the easiest dog ever! Just unbelievably sweet and always such a happy little girl. She's a real joy to have as a part of the family.
Oh and, yes, we did keep her name. I hated to confuse her and it just seemed easiest. Plus, it's a cute name!

Jennifer in Louisiana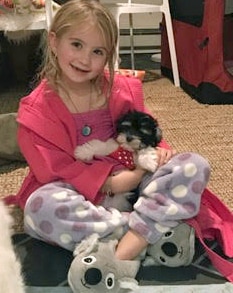 Thank you so much for your email Carol and all of your help in general. We are totally in love with our new puppy!! Our daughter renamed him Larry, which may sound odd but is a very special name to her so it fits well. Although he is even cuter in person as she said, he is even sweeter. He was fine on the trip and woke up a couple of times but we consoled him back to sleep easily.
I've spoken with the vet already and she is totally on board with that plan for his next shot. Knowing nothing about it I am really appreciative that you brought it to our attention. Sean was really relieved and impressed with your attentiveness to the whole situation, especially with such a long drive.
Amy and Sean Wilmington, DE

Tippy just went to his new home in Florida and is being loved

Hi Carol,
Manny is turning two on Tuesday! I wanted you to see how handsome he has become! He is so smart and he listens intently when you talk to him. He understands so much and hops to when you give him a command! He is doing really well! Everyone comments on what a beautiful dog he is! We love him to pieces! I hope this finds you and your family well!
Thanks,
Donna


Hi Carol,
I can't believe Desi is almost 7months old already! He weighs a whopping 7 lbs now! It feels like he's been here forever, he's such a part of our family. He's hit all the milestones along the way, and a big one was being neutered….

I've given your name to several people that have seen him and fallen in love! Wherever we go he attracts attention and they want to know where he came from. He's really friendly and loves everyone, plus he's so cute you can't help but be drawn to him.
Hope all is well with you…
Cindy

Hey Carol,
Here are some pic's of Gigi at 4 months…..
Grandkids love her and call her the best dog ever! They give her a run for the money.
Just wanted to give you an update.

Ginger's babies have found their forever homes and are settling in and happy. On the right is Benji. Here is a letter from his new Mom and Dad.




Hi Carol, Just wanted to let you know that Benji is doing great! Everyone thinks that he is absolutely adorable…
He is a very busy boy and certainly keeps us on our toes. We had forgotten just how much energy a puppy has. We have attached a few pictures to show how much he's has grown. He has the run of the house and is doing pretty well with his house training. He loves the yard and has a race track around the pool. We love him very much! Hope you enjoy the pictures. Marge & Ray
Desi, Charlie and Izzie – have gone home


Hi Carol,
Desi is doing really well, he's getting his first grooming tomorrow! Can't wait to see how he does. He's now eating the Primal food and is up to 5 lbs already! His color is changing, it's lightening up somewhat but is still a beautiful chocolate. We just love him so much, he makes us laugh all the time. He loves everyone he meets and is great with other dogs, the only thing he really doesn't like is the elevator! When he knows we're going on it he runs the other direction as fast as he can!
Hope all is well with you.

Jewel – has found her forever home
Jewell

is now Honey and we are so happy to have her. She has brought additional happiness to our home and fits right in with friendship toward my husand's "rescue" dog, Rebel. They play hard and then chill out. Honey has slept with the three of us every night and snuggles close to my side. She curls up with Joe while watching TV in the daytime.
Billie and Joe -Alabama
Zoey – found her forever home and is being cuddled by a loving family.
We wanted to show you how much Sydney has grown and what she has just learned! My son taught her shake:). We love her so much and cannot get enough snuggles! I will send a few pictures too.

Phoebe F.

Testimonial

Hey there! We just wanted to give you an update on the puppy we adopted from you back in December. He was a Chocolate that we named "Cooper." Cooper has turned out to be the most amazing and precious "child" ever! He's the life of the party and he is super smart. It only took us about two weeks to have him completely pad trained, and he LOVES to go for rides in the truck. Cooper has never met a stranger and he's just all around the perfect dog! We couldn't be happier with our decision to adopt him from you – we prefer using the word adopt instead of buy because we truly feel like he's our child! Even on our worst days, Cooper has a way of putting a smile on our face and love in our hearts! Thank you all at Kings Kids for what you're doing to make these puppies so amazing!
Steven
Manny is weighing nine pounds these days! He is a sweet little guy. He keeps me hopping and has helped me loose some weight chasing after him which is great! His chocolate color is beautiful! It is a very deep brown. Steven and I are crazy about him and the grandchildren now call our home "Manny's House"!
Thanks for everything, Donna- Huntsville, Alabama
"I wanted to share Clover's 11th month pictures today with you and show you how precious she is. She weighed 8 lbs. and 9 oz. This week at the vets so she is on target… She delights all who she comes into contact with and loves people. She loves to play more than anything even eating…haha. .. Every night before her dinner, we give thanks to God for Clover…thank you Jolene, Tennessee

rol.

Have a blessed week,
Jolene
Good morning Carol. Lola turned 2 on March 9 and we had a little party for her. She is still the sweetest, smartest, loving girl in the world. Lola has taken over our life. Which is a good thing. She is so funny, she has one side of the yard for number 1 and the other side for number 2. Lola dances for her treats and is in perfect health. My mother has a toy puddle and I think they love each other. They play all day and see who can get closest to my mom. The only problem with letting mom watch Lola is trying to get her back. Lola loves Grandma. We just did her first teeth cleaning at the vets and they said she is in tip top shape. Thank you again for such a high quality, loving, sweetheart. She is not a dog but a member of the family. Blessings, Gary&Nancy
We got Fisher when he was 12 weeks old from Carol
He is the absolute love of our lives
He potty trained so nicely, so very smart
He is so healthy and full of energy, but when we hold him,
he melts right into our arms.
We don't remember life without him.
He loves our grand babies, he loves dogs, cats and people.
Such a joy
Carol gave him an excellent start,
I tell everyone where we got him.
He loves his bath, loves to swim
I could go on and on.
The best dog we have ever had.
Everyone stops on the street and greets him,
they can't get over how beautiful he is.
Lori T. Hendersonville, NC
*Blessed*
HAPPY REUNION
Joey and Coco (formerly Shiloha nd Brandy) had a happy reunion the other day!! Here's their baby pictures when they left here. They are both Sables and at this age are in their light coat stage. Their colors will darken a bit again as they mature. Its so interesting to watch the changes in a sable coat!!


"Sisters, sisters, There were never such devoted sisters…" Irving had it pegged for these girls!! Patches and Missi are real cuddlers. Below they are at the airport with their new Mommy and Daddy who are sister and brother so they will be able to visit on Holidays and birthdays.


TESTIMONIAL. See more testimonials by clicking here
"She is so wonderful and such a fun and loving dog. She loves puppy playtime….thanks for such a blessing in our lives….I see you are having more puppies….we just love ours. Every night before her dinner, we give thanks to God for Clover…thank you Carol.
Have a blessed week,
Jolene –Harrisburg, Pensylvania

What we Offer:
If you are looking for a beautiful Havanese puppy, you have come to the right place! By giving our pups the Best start here at KingsKids Havanese, we can help match you with an OUTSTANDING puppy that as an adult will STAND OUT from the rest in BEAUTY, HEALTH and PEDIGREE! Its VITAL to choose the right breeder. We are happy to answer any questions. Please read our FAQ page for more details.

What is a Chocolate Havanese?
A chocolate is a genetic abnormality in Havanese that makes the nose, lines around the eyes and paw pads to be brown instead of black. Their eyes are also lighter, often with a greenish or bluish tint or light amber coloring. The chocolate gene is not considered a flaw; they can show in the AKC ring just like any other color. It is a unique look. If you see the brother and sister below, Coco Pebbles is chocolate and Flynn is black and white. You can see the differences in the noses and around the eyes as well and the rich chocolate color of Coco Pebbles coat. She has turned pretty reddish right now and is quite beautiful. The last pup is a dark chocolate Havanese. They have the coloring of a Hershey Bar as they grow.
COLOR questions: The term Sable is often miss-used as a description of tan or silver on cream Havanese coats. In reality, it's a gene that creates variations in the color of the hair. It also creates a different colored tip on the hair. So a sable pup's hair will lighten up and have the colors you see on their baby coat as the tip on their lighter coats when they grow up. Look at the pictures of Carmen and you see the silver with black tips. When a sable reaches adulthood around age 2, some of the darker original color comes back but not as dark as when they were pups.
When you trim the hair on a true sable, the colored tips will grow back within a couple of weeks. When I trim Rosie, she looks like a light cream color all over, then the silver tips on her ears and the apricot on her coat grows back and she's my little golden girl again.
Puppies for Sale on PuppyFinder.com – A premier online destination for finding puppies for sale of AKC recognized, rare and mixed breeds. Offers a comprehensive online directory of dog breeders, stud service providers, dog related products and services, dog friendly hotels and airlines, and many useful tools and resources for finding and raising a puppy.