We love our doggies at KingsKids Havanese. We live by the verse that says "A good man is kind to his animals."
Let me introduce you to our canine members of the family.
BOYS:
AKC CH Honor Heartfelt King Arthur Artie – "Arti"

Arti is a bundle of friendly happiness in a 8 pound body!
He has a perfect conformation and became a champion in only 3 weeks before he was a year old! That is rare and this dog is a rare specimen. His movement is some of the best I've seen. We are proud to have him to further enhance our bloodlines.
AKC Los Perritos Pan-Ic Attack – "Logan"
Logan is the son of one of the greatest dogs in Havanese History, "Pan". Already he has produced a puppy that looks just like his grandfather! He has given us some stunning puppies with wonderful personalities.
GIRLS:
AKC KingsKids All Jazzed Up
Jazzy is a gorgeous silver and white Havanese with black tips. Her colors are stunning.
Jazzy will have a litter late in the year.

She is a very happy, spunky little girl who melts in our arms when we pick her up. She is perfection itself in a 10 pound package. She brightens our days with her antics. She is a beautiful silver girl with beautiful markings and her conformation is amazing, right down the line Havanese standard.





Jazzy is Ginger's daughter from
her first litter. Her sire is this
handsome boy Maxanita's Paint Your Wagon.
Introducing
AKC KingsKids Bold and Sassy
Sassy is our newest little one who will have her first litter fall of 2018. She is just as her name, bold and sassy. She is small, 9 pounds and full of happy energy. Her coat is wonderfully silky. She is a dark Havana brown meaning her black coat has a dilute gene that causes her coat to look reddish brown when the sun hits it. Its beautiful and looks like she is covered in rubies when the sun hits just right. Away from the sun she looks jet black. Its uniquely beautiful.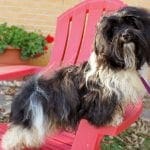 AKC KingsKids Coco Pebbles



Pebbles is a sweet, easygoing little Chocolate girl with silver highlights. She has beautiful amber eyes that are mesmerizing. She weighs 11 pounds. She is happy , quiet and eager to please. She loves a good belly rub and her squeaker toys. She has her mommy's sweet easygoing personality and is very affectionate and very quiet. She will have a litter late in the fall.



AKC Mandy – KingsKids BlueBelle – Retired



Mandy is a beautiful, Irish pied silver sable with multiple colors on cream. She is super sweet, loves to sit on the couch with us and loves anyone that comes by. Her sweet personality is always transferred to her babies along with her amazing good looks and teddy bear face. She is 12 pounds of happy sweetness with amazing bloodlines. She throws amazing colors in her litters.
RETIRED Mommas
AKC CH Liveoak's Carman Maria– Call-name "Carman" RETIRED



Carman is our foundation female and did well in the show ring, She was either first or second almost every time walking away with best of winners a couple times too! She beat out the #5 male dog in the country once and we were very proud of her! She weighs 12 pounds and is just the right size for laps! She is the happiest dog I have ever known and loves people. She is now retired and is our couch potato and my shadow. She gave us some beautiful puppies including Angelina and Lilly and is grandma to Ginger.

She is always wanting to play fetch and prancing around. She carries this long fox toy around and comes up to me making funny whinny sounds which I've learned means pleeeease play fetch with me?!? How can I resist?

AKC KingsKids Angelina is now retired and our happy ray of sunshine



Little Angelina is a ball of happiness! If she could smile I'm sure she would
because she is constantly happy about everything! She's an absolute riot with an ice cube and just about any toy. She has a great pedigree and is one of Carman's babies from her first litter. She is 9 pounds of pure fun.

AKC Havana Rose call name Rosie is a total babe! RETIRED
Rose is a very sweet little girl and a total lap dog. Rose is now retired and my favorite couch potato. I love Rose. She is usually very calm and loving but a couple times a day she gets what we've come to call the "crazy rose" look. She looks at us sideways and barks and starts running around the house like she's in a mad race. Its' hilarious and so much fun to watch!!